The first project phase of BlindBits – the requirements analysis – has been completed. We used the following methods, to assess the needs and preferences of blind and visually impaired pupils regarding brainstorming and design workshops as well as a game, which supports the orientation training:
Expert interviews with teachers and mobility trainers regarding brainstorming techniques
Workshops with pupils about Gamestorming methods
Workshops with pupils regarding video games and mobility training
Behaviour observations and interviews with pupils in their leisure time about board and video games
Behaviour observations and interviews with pupils during mobility training
As a last step of the requirements analysis, a part of the project team could experience a mobility training supported by a professional mobility trainer. Blindfolded and equipped with a cane they explored the school building.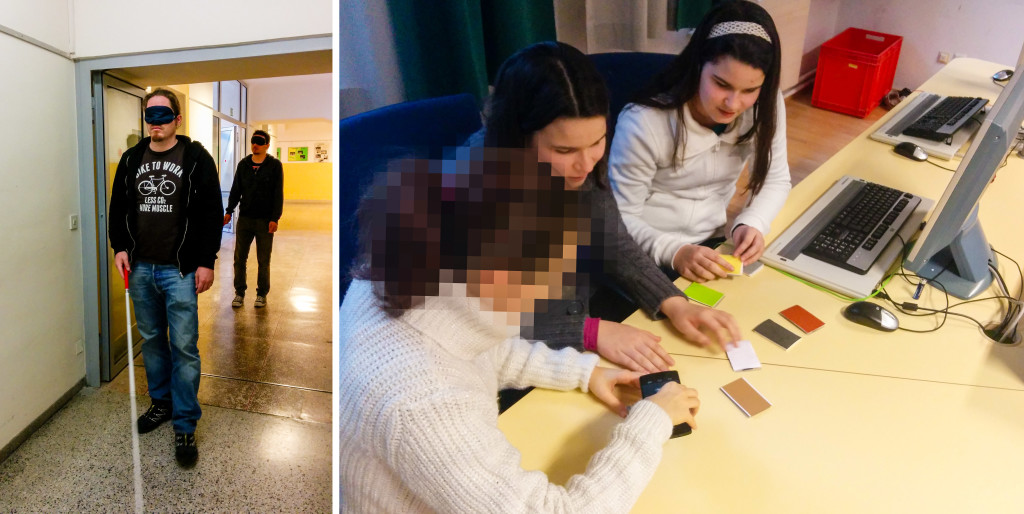 (Photo: AIT)
The results of the requirements analysis are the basis for the brainstorming methods used in the upcoming workshops and the design of the game and level editor. The implementation of the game will also be conducted in strong cooperation with blind and visually impaired pupils and starts with two idea workshops to create and discuss initial game concepts.